MINISTER
CLERK OF SESSION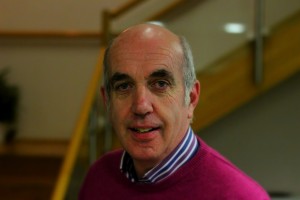 My name is Neil Stewart I am the minister. The Lord began my training for the ministry in 1989 on the building site serving my time as an electrician. I worked for various companies before starting my own electrical business which expanded into a small building company.
My official training for ministry began in September 2008 in Union Theological College and I was ordained and installed in Trinity in May 2014. I am married to Ruth and we have two sons Jack and Archie. My hobbies are mountain biking and working at old cars.
My desire is to help lost people find Jesus and build believers up in their Faith so they can be the best witnesses for the Gospel as possible.
I am George Angus Clerk of Session. I am married to Rosemary and we have two grown up children Alan and Jill now married with families of their own. I live and work at Mount Stewart.
I'm a lifelong member of Trinity Church and have witnessed many changes over the years.
One thing that has not changed is God's Word. My passion is a love of people, to see them come to Jesus and be encouraged on their spiritual journey.
My name is Noel Angus, I am married to Lorna and I have two sons, Bryn and Jude. I was baptised in Trinity as an infant, and I was brought up through the church. I have a passion for seeing Trinity's door being opened up to the whole community, helping people to grow in their faith and be equipped for the trials of everyday living.
I work in the butchers shop in the village, where I combine my interests in farming and love of cooking. I also enjoy spending time with my family and supporting Ulster and Ireland on the rugby pitch.
I am Walker Bowden, a member of session at Trinity Presbyterian Church Greyabbey. My wife, Pauline and I are lifelong members of Trinity and are been married forty five years. We have two sons Lawrence and Aaron and four grandchildren.
I am the elder assigned to the pastoral visitation team, I love connecting with the people of the congregation who can't make it out to church. I live and work on our farm just outside the village and have a passion for motor sport especially F1.
I am Leonard Brown, a life-long member of Trinity and currently, along with my elder duties, I serve as the congregational secretary.
My passion is for evangelism and I lead the Christianity Explored outreach team. I am married to Joan and we have 2 grown up sons. I work as a Civil Servant and have been a fan of Manchester United since childhood, also an Ulster rugby supporter and enjoy the outdoors including gardening and walking.
I am John Cranston, married to Joan, with son Gareth married to Elaine and daughter Liane married to Chris. We have been wonderfully blessed with four lovely grandchildren.
My working life was spent in the Agriculture sector; retirement has allowed me to transfer my interest and energy to my own beef cattle herd. I have a keen interest in sport, especially Rugby; I am a faithful Ulster supporter.
I was ordained as an elder in 1989 and along with my pastoral duties, I am the elder responsible for Fellowship within the church family, organising events to bring us together in a social and fun setting. Joan and I are privileged to host one of the Discipleship home groups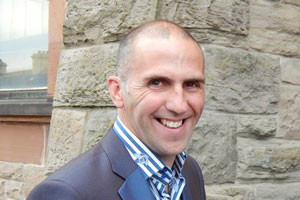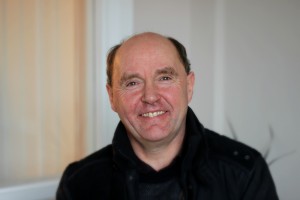 I'm Mark Gracey, I'm 48 and married with a 10 year old son Aaron. I'm something of a blow-in to Greyabbey, having moved here from Lisburn 19 years ago with my lovely wife, Barbara. Trinity was the first church we went to, and we received such a warm welcome and felt so quickly at home that we never tried anywhere else.
I was installed as a member of Session two years ago and I am the Elder connected with the youth ministry. I love working with young people, sharing my faith and helping them deal with the various pressures they face.
I believe we have a God–given responsibility to lead them to Jesus and show how He can help them through. My interests are camping, surfing, cycling, skateboarding, gardening, and tinkering with engines.
Hi I am Norman Hamilton; I was born and have lived in Greyabbey all my life. I am married to Julie and have two children Ben and Zara.
I was brought up in Trinity by my Christian parents and came right up through the Sunday school and Boys Brigade, where I have been both a member and leader. I got involved in the leadership of the church through being in the committee for a number of years and then was voted onto the eldership on the 22nd June 2008.
I have a real passion for prayer and have become the elder-in-charge of corporate prayer. My vision for Trinity is to see a growing church become a praying church, where we can not only enjoy the fellowship and worship at Trinity but also find ways of praying and listening better to our God above for his ongoing vision.
My prayer is that I will let God continue to use me to encourage and help others in finding their way to God and in there walk with our saviour.
My name is Ronald Walker and I live just outside Greyabbey in the town land of Ballyboghilbo on a farm. I have lived here all my life and left school at sixteen and served my time as a motor mechanic and worked on the farm but now I am a part time farmer and full time mechanic running my own garage from home.
I am married to Wendy and have two grown up children Matthew and Faith and we all worship at Trinity. I'm an officer in the Boys' Brigade and acting captain, my role on Session is Presbytery and General Assembly representative.
In my late teens I asked Jesus into my life and it is my prayer that everyone who comes into contact with any of the Ministries of Trinity will hear the Good News of Jesus Christ and act on it.