EXCITING NEWS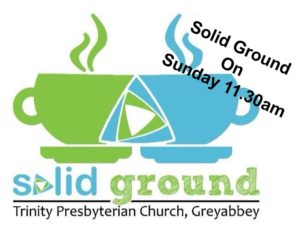 SOLID GROUND ON SUNDAYS
Beginning Sunday 6 May 2018, Solid Ground Greyabbey will be opened every Sunday from 11.30am to warmly welcome folks from our congregation, and wider community, who may find it difficult, for a variety of reasons, to sit through the main church service. This will offer the opportunity to watch and listen to the service, via television, in a smaller, relaxed setting with refreshments available. A number of congregational members will be on hand before, during and after the service to provide assistance or simply to have a chat. If you feel this facility would meet your needs please come along – you will be made very welcome; alternatively, if you feel it may meet the needs of a family member or friend, please let them know the details or perhaps bring them along with you. Please contact Elaine on 07718 203322 should you require any further details.

TRINITY MEMBERS INFORMATION SIGN-UP SHEET
We are in the process of updating our church records and would like for each family member of the church to take a few minutes to update or obtain information on them. All information is for church purposes only and will be held in accordance of the Data Protection Act. It is for communication purposes only for Trinity, Greyabbey and will help the session and committee with the weekly running of the church. Thank you very much for taking the time and if you have any queries please get in touch with Tony Craig on 07985 415126. To access the page please click here
UPCOMING EVENTS
WinGS All ladies are warmly invited to our first evening session on Tues 17 September at 7.30pm in Orange Tree House, when we shall be launching the theme for the season RESTORE. Tickets are £5.00, which includes a light supper, and are available from Solid Rock Café, Cloughey; Solid Ground Café, Greyabbey or by contacting 07921 854 880.


RISK ASSESSMENTS Following our first Annual Leaders Training, risk assessments from all our organisations / groups for 2019-20 are now requested. Please send these to Phil Allen, at jphilallen@yahoo.co.uk by Sunday 15th September. If any help or advice is required please contact Phil on 07888 844 300.


POLO Parents (and Carers of Little Ones) New exciting Tots Group for Cloughey! Every Thurs morning 10.00am – 11.30am. Come learn more, meet the team and grab a cuppa.


YWCA IRELAND BOOK CLUB returns this Thurs, 19th September at 7.30pm in Solid Ground, Greyabbey. All women welcome! Our first book is 'To Kill A Mockingbird' by Harper Lee. For more info, chat to Sarah or Rebekah.


WOMEN'S PRAISE NIGHT All Women Welcome to a Praise and Worship night on Sat 5th of October at 7.30pm in Cloughey Church.


KNIT AND NATTER starting in Cloughey, 2nd and 4th Wed of each month at 10.00am in Minor Hall. Next on Wed 25th Sept, contact Carol on 07794 843 390 for details.


MEN'S MINISTRY BREAKFAST All men are invited to the Men's Breakfast on Tues 17th Sept at 9.30am starting in the Youth Room. We look forward to having you join us for an Ulster fry in the Main Hall at 10:00am with fellowship, good conversation, and a selection of newspapers and board games. You do not have to be a regular attendee to come along and if you know of someone who would enjoy the fellowship please bring them too.


2019 UNITED APPEAL SPECIAL COLLECTION It's the time of year when we take our second collection for United Appeal for the work of mission both at home and overseas. You are encouraged to prayerfully consider your contribution to this important wider work of the Presbyterian Church. Please use the United Appeal envelopes included in your FWO Pack, (located behind the Property & Harvest envelopes). We would appreciate returned envelopes by the end of September. If you do not have Church envelopes and wish to contribute, please place your donation in a plain envelope marked United Appeal.


HARVEST SERVICES St Saviours Church of Ireland, Greyabbey will be held on Sun 22nd Sept. Service times are 10.00am and 6.30pm. All will be made most welcome.


TEARFUND FUNDRAISER Cycle for freedom 2019 on 28th September. The cycle features both 90km and 50km routes from Portstewart along the coast to Ballycastle and returning inland for a barbecue. Every £36 raised could help protect one child from trafficking, disease or disaster. More info on the Tearfund website.


Save the Date: 16 November 2019 The Mission Committee is hosting a Tearfund Big Quiz Night – a huge multi-venue, nationwide quiz. Get together with your friends, family and church for an epic evening of poverty-fighting fun! So get your team names ready…More information to follow soon.


SAMARITAN'S PURSE SHOE BOX APPEAL It's shoebox season once again. This is our chance to reach out to children in their communities – Operation Christmas Child begins with us! For those of you who would like to fill a box there is a limited number of boxes prepared under table outside Solid Ground along with leaflets on How to Pack a Shoebox and Information Sheet on Age Group's Contents, these Leaflets are also available at Cloughey. This year we would like all boxes and donations by 3rd November. Donations can be given to Norma or any Elder. For more details, please contact Norma McComb on (028) 427 57275 or 07753 661 022 / 07702 269 218.


FIRST AID TRAINING This has been arranged for Sat 16 Nov in GR from 9.00am – 5.00pm. The training will be led by the British Red Cross and will also include Epipen Training for those who require same. Each organisation is asked to nominate a representative. Please provide your names to Leonard (07979 775 338) if you haven't already done so.


BOTH LIVES MATTER the pro-life advocacy organisation in Northern Ireland, are encouraging people to send postcards to their local MLAs as a physical reminder in every office of the large numbers in their constituency who want Stormont to reconvene before October 21st. Sets of postcards and details of our four local MLAs are available in the church welcome areas.


K4C Rota: Sept
Junior: 1st & 8th: Pamela, Hazel, Zara, Emily
15th & 22nd: Jackie, Josh, Robbie, Nicole
29th: June, Laura, Jonny, Rachel
Senior: 15th : Julie, Alex, Kenny
22nd: Ben, Lorraine, Jamie
29th : Charon, Lorraine, Jamie


CHURCH/CHRONICLE ANNOUNCEMENTS
For church announcements and Chronicle notices it is Fiona.
Please email announcements@trinitygreyabbey.org before Thursday at noon to make that Sundays sheet.
Deadline for ads for Chronicle is 5.00pm on Monday.

INTERNAL ORGANISATIONS HALL/ROOM BOOKINGS
To book a room at either venue, please check the calendar to make sure the date(s) are available and send an email with your name; organisation; telephone number; date of function; time from/to; and nature of function to roombookings@trinitygreyabbey.org

SETTING UP A/V EQUIPMENT, SOCIAL MEDIA OR ANY OTHER
I.T. RELATED QUERIES
Contact Tony on communications@trinitygreyabbey.org or 07985 415 126.

FOR FURTHER INFORMATION AND DETAILS ON THE ABOVE ITEMS PLEASE SEE NOTICE BOARD IN THE WELCOME AREA

A WELCOMING CHURCH




Should you need to speak to our Minister
Please contact Neil on the following:
Mob – 07841 353 790 – Manse – (028) 42788688 / Church – (028) 42788377
E-mail neildhstewart@gmail.com

If you need to speak to our Outreach Worker, contact Michelle on:
Mob – 07541 727 033 or E-mail clougheyoutreach@trinitygreyabbey.org

If you or someone you know is going into hospital, or has been taken to hospital, please let Neil or one of the elders know. Thanks.
A WORSHIPPING CHURCH
MISSED A SERVICE OR WANT TO LISTEN AGAIN? – Trinity Podcasts
Please search the iTunes Store for Trinity Greyabbey and subscribe to our channel if you wish to hear today's or any past sermons again.
Or download them through our Facebook page
Facebook.com/TrinityGreyabbey
Or website:
www.trinitygreyabbey.org/media
Services on CD & Download
Our services are recorded weekly. Copies are in the information area of the vestibule for collection should you want one. Alternatively, you can listen or download on-line. Just visit our website or Facebook page and follow the links. Any queries contact Tony, Mob: 07985 415 126 or Email:
communications@trinitygreyabbey.org
.
A SERVING CHURCH
Devote yourselves to prayer, being watchful and thankful.
Colossians 4:2
PRAYER TEAM
The prayer ministry team are around after the service if you would like someone to pray with you please see Norman or Neil or look for the members with badges on .Building a prayer culture takes time. Please use this ministry to make a difference.
T@P
meets this month on
Wed 11th September
in Cloughey (Finnegan Hall) and in Greyabbey (Upper Room) at 7.30pm.. It would be great to see you there.
PRAYER TEXT
If you have a particular issue or health problem and you would like at least 40 people to be praying for you please send it through to
07754
193
347
. All requests will be kept confidential.
T@P updates for September are around the church and information area, please use one and keep praying each day of the week.
Welcome Team for September: GR
Elder – Norman Hamilton
Team Leader –
John McAvoy
Joan Cranston Cathy Graham
Helen Megarry


Welcome Team for September: CL
Margaret Allen Phil Allen
Elders:
1st: Ronald, Alan, Richard
8th: Ronald, Alan, Colin
15th: Ronald, Richard, David
22nd: Alan, Richard, David
29th: Ronald, Alan, Richard
Solid Ground on Sunday Team: September
Norman Hamilton John McAvoy
Diane McCracken Cathy Graham
Flowers Rota
Flowers Rota: CL
1st Jessie Hunt
8th Denise King
15th Denise King
Flowers Rota: GR
1st Helen Megarry
8th Sharon Muldoon
15th Tutu Ogle

TIDES – Daily Emailed Devotional
In the constant cycle of life, it is important for the people of God today to maintain a rhythm of devotion. PCI have a resource for ordinary followers of Jesus with a regular pattern of
bible reading and prayer that will provoke lives of service and mission. If you would like to investigate this resource you can do so at
www.presbyterianireland.org/tides
CONNECT WITH US
Follow our social media outreach and stay connected with the latest updates, announcements and fellowship events.
COPYRIGHT NOTICE
The information on this site is the property of Trinity Greyabbey. No broadcasting or duplication of any sermons allowed without permission from Trinity Greyabbey.
CONTACT US
Trinity Presbyterian Church
Main Street, Greyabbey
County Down, BT22 2NE.
Minister Neil Stewart:
Mobile – 078 413 53790
Church Office – 028 427 88377
Manse – 028 427 88688