EXCITING NEWS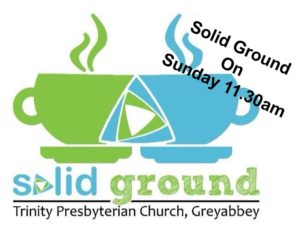 SOLID GROUND ON SUNDAYS
Beginning Sunday 6 May 2018, Solid Ground Greyabbey will be opened every Sunday from 11.30am to warmly welcome folks from our congregation, and wider community, who may find it difficult, for a variety of reasons, to sit through the main church service. This will offer the opportunity to watch and listen to the service, via television, in a smaller, relaxed setting with refreshments available. A number of congregational members will be on hand before, during and after the service to provide assistance or simply to have a chat. If you feel this facility would meet your needs please come along – you will be made very welcome; alternatively, if you feel it may meet the needs of a family member or friend, please let them know the details or perhaps bring them along with you. Please contact Elaine on 07718 203322 should you require any further details.

TRINITY MEMBERS INFORMATION SIGN-UP SHEET
We are in the process of updating our church records and would like for each family member of the church to take a few minutes to update or obtain information on them. All information is for church purposes only and will be held in accordance of the Data Protection Act. It is for communication purposes only for Trinity, Greyabbey and will help the session and committee with the weekly running of the church. Thank you very much for taking the time and if you have any queries please get in touch with Tony Craig on 07985 415126. To access the page please click here
UPCOMING EVENTS
MEN'S MINISTRY All men are invited to the Men's Breakfast on Tues 19th March at 9.30am starting in the Youth Room. We look forward to having you join us for an Ulster fry in the Main Hall at 10.00am with fellowship, good conversation and a selection of newspapers and board games.
WinGS All ladies are warmly invited to WinGS on Tues 19th March at 7.30pm in the Upper Room (GR) when the theme shall be "Beautiful Feet" with a representative of "OPEN DOORS". We look forward to having you join us for a blessed evening.
YWCA IRELAND BOOK CLUB Join us for a new year of book adventures. We'd love to see you! Book club meets on the third Thurs of the month at 7.30pm in Greyabbey. For more info, chat to Sarah or Rebekah. 21 March: 'Redeeming Love' by Francine Rivers. 18 April: 'Jesus Feminist' by Sarah Bessey. Contact Sarah (president@ywca.ie or 07702 138 584).
EASTER CHOIR practices commence on Thurs 21st March at 8.00pm. If you love worshipping through song, then this invitation is for YOU to come along and join us for fun and fellowship as we prepare to celebrate our Risen Saviour.
ALZHEIMERS SOCIETY Market House, The Square Portaferry Dementia Information Programme (Pre-booking not required) 1) Dementia: Financial & Legal Planning:Michael Graham (Solicitor), Thurs 21 March 7.00pm-8.30pm 2) What is Dementia & the role of the Dementia Navigator: Jenny Moran (Dementia Navigator, SEHSCT) and Lynda Williams (Alzheimer's Society) Thurs28 March 7.00pm-8.30pm 3) Palliative Care and Dementia: Lynda Williams (Alzheimer's Society) Thurs 4 April 7.00pm-8.30pm To find out more, please phone (028) 9181 0083 or email northdownandards@alzheimers.org.uk
2019 UNITED APPEAL SPECIAL COLLECTION United Appeal is used for the work of mission both at home and overseas and you are encouraged to prayerfully consider your contribution to this important ministry. Please use one of the United Appeal envelopes included in your FWO Pack (located behind the white Property envelopes). This will be the first collection of two during this year and we ask for any contributions to be returned by the end of March.
CHURCH TRIP 2019 Itineraries are available for this year's trip to Wicklow from the 13th – 16th of August. The trip will take in Malahide, Bray, Avoca (Ballykissangel), Glendalough, The Wicklow Mountains and a stop in Dublin on the way home. For all the details, contact Paddy on 07751 518 787 or (028) 427 88679.
BASIC FINANCE FOR SMALL CHARITIES NICVA are providing training for Community Groups on Financial Management on Wed 27th March in Londonderry Park Pavilion from 7.00pm – 9.00pm. A FREE workshop for anyone with financial responsibility of a charity. Spaces are limited so to book a place contact: www.nicva.org/event/basic-finance-for-small-charities-newtownards
TEARFUND LENT RESOURCE Enough is a collection of Bible-based reflections, poems and prayers for every day of Lent. There are also some beautiful images to complement the thoughts. The theme is: 'In God's eyes, we are more than enough'. The reflections have been written by a few of us at Tearfund, with some special guest contributors. It is available as a daily email or there are limited number of Enough booklets available to order featuring all 47 reflections (we've included Sundays in this Lent journey, with Easter Sunday). Visit https://www.tearfund.org/en-NI/lent_2019/ to sign up!
SCRIPTURE UNION CAMPS AND MISSIONS Brochures are available in the Welcome Area for Camps. These are for P5-Yr14 and offer a wide range of activities as well as seminars and talks. These camps fill up quickly! Either get a brochure or go online to suni.co.uk/campsandmissions/ Applications close on 1st April for volunteering at any SU camps and missions, this for 17+ at time of camp/mission and offers a really fantastic experience! For 16-18 year olds, It's Your Move gives you the opportunity to learn how to become a leader whilst also leading a camp/mission. For more info go to www.sunivolunteering.co.uk/
FIELDS OF LIFE FUN RUN at Stormont Estate on Sat 31st August. Register at https://fieldsoflife.eventbrite.co.uk registration closes Sun 18th August. Contact info@fieldoflife.org or www.fieldsoflife.org for more info. Medals for all finishers!
FOOD BANK Storehouse North Down urgently require the following items: tins of fruit, tins of vegetables, tins of custard, rice, cooking oil, snacks, tins of meat, bottles of juice, sauces for rice and pasta, fruit juice. These can be left in the collection trolley in the hall foyer. Thank you for your help!
K4C Rota: March – GR
Junior: Pamela, Zara, Hazel
Senior: Julie, Alex, Kenny, Rachael
CL: Nicola Clint, Caroline McMaster

TIDES – Daily Emailed Devotional
In the constant cycle of life, it is important for the people of God today to maintain a rhythm of devotion. PCI have a resource for ordinary followers of Jesus with a regular pattern of
bible reading and prayer that will provoke lives of service and mission. If you would like to investigate this resource you can do so at
www.presbyterianireland.org/tides
CONNECT WITH US
Follow our social media outreach and stay connected with the latest updates, announcements and fellowship events.
COPYRIGHT NOTICE
The information on this site is the property of Trinity Greyabbey. No broadcasting or duplication of any sermons allowed without permission from Trinity Greyabbey.
CONTACT US
Trinity Presbyterian Church
Main Street, Greyabbey
County Down, BT22 2NE.
Minister Neil Stewart:
Mobile – 078 413 53790
Church Office – 028 427 88377
Manse – 028 427 88688