Letter from the Moderator
Turkey & Syria Earthquake
Earlier this week news headlines focused on the courageous endeavour of first responders engaged in a race against time to rescue victims from the rubble of flattened buildings following a series of devastating earthquakes in Southern Turkey and North West Syria. More than 16,000 men, women and children have lost their lives, many more have been injured, and tens of thousands of homes have been destroyed. Even before these earthquakes, there were over four million people in need of aid in Northwest Syria as a result of years of conflict. So, there is immediate need for a range of vital supplies, such as blankets, mattresses, warm clothing, nutritious food, clean water, medical care and not least safe shelter in the face of what is a bitter winter.
I am keenly aware that many people in our own country are struggling with the increase in cost of living, yet in the face of this unfolding disaster in Turkey and Syria, I would warmly commend this need to you, no matter how small your gift, it is really appreciated. This can be done through the Disaster Emergency Committee Appeal www.dec.org.uk in support of leading aid charities working in Turkey and Syria, or through Christian Aid www.christianaid.ie or Tearfund www.tearfund.org , PCI's relief and development partners, focused primarily on the relief effort through organisations on the ground in North West Syria.
At this time, we also seek to stand in prayerful solidarity with PCI's partner church in the region, the National Evangelical Synod of Syria and Lebanon (NESSL), who have a small number of congregations in the affected region. As an expression of our solidarity we are immediately sending a donation for the practical support of these congregations.
I would encourage members of our congregations to pray earnestly for all those in the region experiencing such unimaginable suffering, especially:
· That supplies would reach those in greatest need despite the severe winter and disrupted communications.
· That first responders, health workers and all those tackling this emergency would know courage and resilience.
· For the grieving to experience God's comfort and the injured and traumatised to know healing.
· For the National Evangelical Synod of Syria and Lebanon as it supports its congregations in North West Syria.
My deepest appreciation in anticipation of all your support as together we in PCI play our part in saving lives and restoring hope to the many affected in Turkey and Syria.
Rt Rev Dr John Kirkpatrick
Services from April 2020 are live-streamed on the Trinity Greyabbey

Click on the image below to view the Abura ECD Centre Completion Report.
SUNDAY SERVICES TO BE STREAMED LIVE ON

From Sunday 17th May Sunday services will be streamed live on YouTube.
Anyone who has access to the internet will be able to view the live-stream on YouTube using a smart phone, tablet, computer or smart TV. Unlike Facebook, there is no requirement to register or login to YouTube, so it is accessible to more people.
If you have a smart TV, i.e. a TV that can access the internet, then it will probably have a YouTube app. Unfortunately, all TVs are different so it is not possible to provide precise instructions, but the following is offered as a guide.
Turn the TV on.

Select the YouTube App (you may need to press 'Source' or some other button on the TV remote to display the Apps).

Select search (the magnifying glass icon). Input 'Trinity Greyabbey' and select 'Trinity Greyabbey' from the list.

Select the live-stream scheduled for this Sunday.
If you happen to have a sign-on to YouTube, it would be appreciated if you would SUBSCRIBE to our Channel.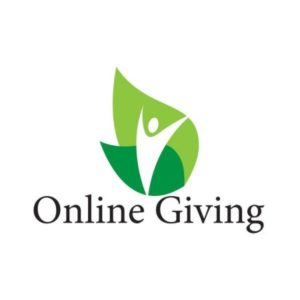 OFFERINGS BY STANDING ORDER / ELECTRONIC TRANSFER
If you would like to make your tithes and offerings by Standing Order, or Electronic Transfer please click on the link below to view instructions on how to set this up.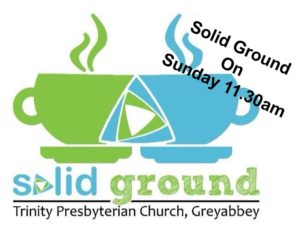 SOLID GROUND ON SUNDAYS
Beginning Sunday 6 May 2018, Solid Ground Greyabbey will be opened every Sunday from 11.30am to warmly welcome folks from our congregation, and wider community, who may find it difficult, for a variety of reasons, to sit through the main church service. This will offer the opportunity to watch and listen to the service, via television, in a smaller, relaxed setting with refreshments available. A number of congregational members will be on hand before, during and after the service to provide assistance or simply to have a chat. If you feel this facility would meet your needs please come along – you will be made very welcome; alternatively, if you feel it may meet the needs of a family member or friend, please let them know the details or perhaps bring them along with you. Please contact Elaine on 07718 203322 should you require any further details.

TRINITY MEMBERS INFORMATION SIGN-UP SHEET
We are in the process of updating our church records and would like for each family member of the church to take a few minutes to update or obtain information on them. All information is for church purposes only and will be held in accordance of the Data Protection Act. It is for communication purposes only for Trinity, Greyabbey and will help the session and committee with the weekly running of the church. Thank you very much for taking the time and if you have any queries please get in touch with Tony Craig on 07985 415126. To access the page please click here

CHURCH/CHRONICLE ANNOUNCEMENTS
For church announcements and Chronicle notices it is Fiona.
Please email announcements@trinitygreyabbey.org before Thursday at noon to make that Sundays sheet.
Deadline for ads for Chronicle is 5.00pm on Monday.
INTERNAL ORGANISATIONS HALL/ROOM BOOKINGS
To book a room at either venue, please check the calendar to make sure the date(s) are available and send an email with your name; organisation; telephone number; date of function; time from/to; and nature of function to roombookings@trinitygreyabbey.org
SETTING UP A/V EQUIPMENT, SOCIAL MEDIA OR ANY OTHER
I.T. RELATED QUERIES
Contact Tony on communications@trinitygreyabbey.org or 07985 415 126.
FOR FURTHER INFORMATION AND DETAILS ON THE ABOVE ITEMS PLEASE SEE NOTICE BOARD IN THE WELCOME AREA



Should you need to speak to our Minister
Please contact Neil on the following:
Mob – 07841 353 790 – Manse – (028) 42788688 / Church – (028) 42788377
E-mail ministertrinitygreyabbey@gmail.com

If you need to speak to our Outreach Worker, contact Michelle on:
Mob – 07541 727 033 or E-mail clougheyoutreach@trinitygreyabbey.org

If you or someone you know is going into hospital, or has been taken to hospital, please let Neil or one of the elders know. Thanks.
MISSED A SERVICE OR WANT TO LISTEN AGAIN?
All our services from 10th May 2020 are available to view on our YouTube Channel.
Services available on CD & DVD
If you don't have access to the internet, copies of services are also available on either CD or DVD. These can be ordered from your District Elder. Any queries please contact Tony, Mob: 07985 415126 or Email:
communications@trinitygreyabbey.org
.

"Don't think of the things you didn't get after praying

.

Think of the countless blessings God gave you without asking

"
T@P
meets next on Wednesday 14th September in the Upper Room (Greyabbey) and Minor Hall (Cloughey).
PRAYER TEXT
If you have a particular issue or health problem and you would like at least 40 people to be praying for you please send it through to
07754
193
347
. All requests will be kept confidential.
T@P updates are published online. See 'Trinity @ Prayer'.



Flowers Rota: CL
4th Sheena Birch
11th Sheena Birch
18th Elizabeth Carlisle

Flowers Rota: GR
4th Sandra McKinstrey
11th Sharon Muldoon
18th Tutu Ogle



Welcome Team: August – GR
4th Mark & Denise Bowman, Helen Megarry
11th Joan Brown, Donna Beattie, Jackie Little
18th Michael & Anne Allen, Sandra McKinstrey
25th Andrew Cole, John McAvoy, Cathy Graham

Elder:
4th – Harold Campbell
11th – George Angus
18th – Norman Hamilton
25th -Colin Muldoon



TIDES – Daily Emailed Devotional
In the constant cycle of life, it is important for the people of God today to maintain a rhythm of devotion. PCI have a resource for ordinary followers of Jesus with a regular pattern of
bible reading and prayer that will provoke lives of service and mission. If you would like to investigate this resource you can do so
here.
CONNECT WITH US
Follow our social media outreach and stay connected with the latest updates, announcements and fellowship events.
COPYRIGHT NOTICE
The information on this site is the property of Trinity Greyabbey. No broadcasting or duplication of any sermons allowed without permission from Trinity Greyabbey.
CONTACT US
Trinity Presbyterian Church
Main Street, Greyabbey
County Down, BT22 2NE.
Minister Neil Stewart:
Mobile – 078 413 53790
Church Office – 028 427 88377
Manse – 028 427 88688