EXCITING NEWS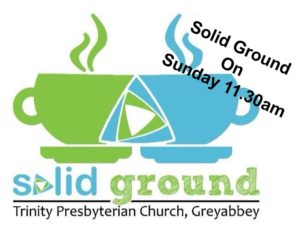 SOLID GROUND ON SUNDAYS
Beginning Sunday 6 May 2018, Solid Ground Greyabbey will be opened every Sunday from 11.30am to warmly welcome folks from our congregation, and wider community, who may find it difficult, for a variety of reasons, to sit through the main church service. This will offer the opportunity to watch and listen to the service, via television, in a smaller, relaxed setting with refreshments available. A number of congregational members will be on hand before, during and after the service to provide assistance or simply to have a chat. If you feel this facility would meet your needs please come along – you will be made very welcome; alternatively, if you feel it may meet the needs of a family member or friend, please let them know the details or perhaps bring them along with you. Please contact Elaine on 07718 203322 should you require any further details.

TRINITY MEMBERS INFORMATION SIGN-UP SHEET
We are in the process of updating our church records and would like for each family member of the church to take a few minutes to update or obtain information on them. All information is for church purposes only and will be held in accordance of the Data Protection Act. It is for communication purposes only for Trinity, Greyabbey and will help the session and committee with the weekly running of the church. Thank you very much for taking the time and if you have any queries please get in touch with Tony Craig on 07985 415126. To access the page please click here
UPCOMING EVENTS
TRACTOR DRIVE starting at Trinity Cloughey on Saturday 27th July. Registration starts at 11:30am with the drive at 1pm. Entry is £10 per vehicle including the driver and a BBQ voucher. Refreshments will be available to purchase before and after the drive.
Route:




From the Church car park, turn right onto Main Road towards Portavogie. Continue straight on till you reach the T-junction at Glastry College. Turn left onto Victoria Road past Glastry Methodist Church. Take 2nd left onto Manse Road, past Glastry Presbyterian Church. At Rubane continue straight over the crossroads onto the Gransha Road, past the Echlinville Distillery. Take 3rd road on left onto Blackstaff Road keep straight on across the Ballygelagh Road onto the Quarter Road until you reach Kirkiston Primary School. Turn left onto Main Road, Cloughey to come back to the Church. Total distance approx. 10 miles.

See Facebook event here.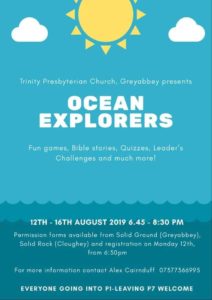 OCEAN EXPLORERS HOLIDAY BIBLE CLUB 12th – 16th August at Trinity Greyabbey. Loads of activities including *Drama, *Games, *Bible Stories, *Crafts and much more, so it's sure to be a fun-filled week. Suitable for all children going into P1 to those leaving P7. Permission forms available from Solid Ground (Greyabbey), Solid Rock (Cloughey) and registration on Monday 12th August from 6:30pm.
Please share and spread the word.
ANNUAL LEADERS TRAINING
This has been arranged Mon 2 Sept in GR (Upper Room) and Mon 9 Sept in CL (Minor Hall) – both starting at 7.30pm. This training is for all members of Session, Committee, Welcome Teams and leaders of all organisations / groups, who are asked to attend one of these training evenings.
CSSM Cloughey & Portavogie
15th – 19th July. Juniors meet from 11.00am-12.30pm in Cloughey Presbyterian Church (Minnows 4-6yr and Sardines
7-10yrs) and Seniors meet 11.00am-12.30pm and 7.00pm-9.00pm in Portavogie Community Centre (Pikes 11-14 yrs & Sharks 15+). Afternoon session for all ages in Portavogie from 3.00pm-4.00pm every day.
YWCA IRELAND BOOK CLUB
Thank you to all who supported the recent Books & Bakes event. Together we raised just over £600.00 for YWCA Ireland Leadership Academy and Days for Girls. The Book Club summer read is To Kill a Mockingbird by Harper Lee. See you in September 2019!
THANKS – TEAR FUND WALK
At present the total from this year's walk is £2355.00. Many thanks to all who walked, donated and the amazing amount given from Men's Ministry evening – Anne Allen.
CSSM
If anyone would like to make tray bakes for the CSSM team (there are 40 of them this year), please leave in kitchens in either Cloughey or Greyabbey on 13th July, that would be great. Thank you.
CHOIR MEMBERS WANTED!
DoubleBand Films is seeking choir members for a unique music project – Singing the Messiah. The documentary series for BBC NI will follow a local community choir from Co. Down as they come together and prepare for a very special Christmas performance of Handel's Messiah in Ulster-Scots. Like to sing? Aged 18 and up? Living in the Ards Peninsula? Contact: Sharon Whittaker on (028) 9024 3331 / swhittaker@doublebandfilms.com to find out more.
CLOUGHEY TOTS
It is hoped that a Parents and Toddlers group will run in the church commencing in the Autumn. If you would be interested in helping or could donate toys, crafts or children's musical instruments, please contact Michelle.
KESWICK AT PORTSTEWART
from Sat 6th – Fri 12th July. Life Changing – Bible Teaching. Mornings: 11.00am, Evenings: 7.30pm. More details available from
www.keswickportstewart.org.
Date for your Diary – MOURNE WALK
to be held Sat 24th August
(NOTE date change)
. We will be leaving church car park at 9.45am SHARP. So dust off your boots and put the date in your diary. More information to follow nearer the time.
Save the Date: 16 November 2019
:The Mission Committee is hosting a Tearfund Big Quiz Night – a huge multi-venue, nationwide quiz. Get together with your friends, family and church for an epic evening of poverty-fighting fun! So get your team names ready…More information to follow in September.
ALL ORGANISATION LEADERS
To comply with GDPR requirements, lockable A4 document wallets have been purchased. If your organisation needs to control access to confidential documents please see Tony Craig in the Church Office after the service to collect the wallets.
PAPER SHREDDER
A paper shredder is located in the church office and should be used to dispose of
All paper waste
whether deemed confidential or not.
TEARFUND RUBBISH CAMPAIGN
We are encouraging you to take the Tearfund PLASTIC PLEDGE to commit to using ONE less type of single-use plastic for 40 days (or more!). It's estimated that each of us in the UK throws away 4,000 pieces of plastic from our homes each year. Most of this can't be recycled. By joining in the Plastic Free July initiative we'll make a big impact on the amount of waste in landfills, oceans and incinerators, or being shipped overseas for poorer countries to dispose of.
You can also take part by signing Tearfund's
petition
– which calls on Coca-Cola, Nestlé, PepsiCo and Unilever to take responsibility for their plastic waste in poorer communities. For more info please visit:
https://www.tearfund.org/about_you/action/rubbish/
Neil will be on annual leave from Wed 3rd July, returning on Thurs 1st August. If you need to speak to someone from the congregation then please contact our Clerk of Session George Angus on 07922 662 870 or (028) 427 88457
Welcome Team for July: GR
Elder – John Cranston
Team Leader – Victor Mitchell
Rosemary Angus Andrew Cole
Laura Finlay Zara Hamilton.
Welcome Team for July: CL
Pauline Ringland Patricia Dorrian William Dorrians
Elders:
7th: Ronald, Alan, Richard
14th: Ronald, Alan, Walker
21st: Ronald, Richard, David
28th: Alan, Richard, David
Solid Ground on Sunday Team: July
John Cranston Victor Mitchell
Joan Cranston Bertha Kelly

TIDES – Daily Emailed Devotional
In the constant cycle of life, it is important for the people of God today to maintain a rhythm of devotion. PCI have a resource for ordinary followers of Jesus with a regular pattern of
bible reading and prayer that will provoke lives of service and mission. If you would like to investigate this resource you can do so at
www.presbyterianireland.org/tides
CONNECT WITH US
Follow our social media outreach and stay connected with the latest updates, announcements and fellowship events.
COPYRIGHT NOTICE
The information on this site is the property of Trinity Greyabbey. No broadcasting or duplication of any sermons allowed without permission from Trinity Greyabbey.
CONTACT US
Trinity Presbyterian Church
Main Street, Greyabbey
County Down, BT22 2NE.
Minister Neil Stewart:
Mobile – 078 413 53790
Church Office – 028 427 88377
Manse – 028 427 88688