EXCITING NEWS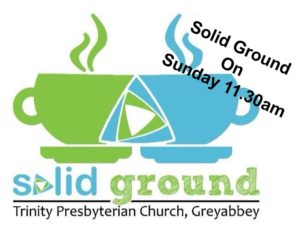 SOLID GROUND ON SUNDAYS
Beginning Sunday 6 May 2018, Solid Ground Greyabbey will be opened every Sunday from 11.30am to warmly welcome folks from our congregation, and wider community, who may find it difficult, for a variety of reasons, to sit through the main church service. This will offer the opportunity to watch and listen to the service, via television, in a smaller, relaxed setting with refreshments available. A number of congregational members will be on hand before, during and after the service to provide assistance or simply to have a chat. If you feel this facility would meet your needs please come along – you will be made very welcome; alternatively, if you feel it may meet the needs of a family member or friend, please let them know the details or perhaps bring them along with you. Please contact Elaine on 07718 203322 should you require any further details.

TRINITY MEMBERS INFORMATION SIGN-UP SHEET
We are in the process of updating our church records and would like for each family member of the church to take a few minutes to update or obtain information on them. All information is for church purposes only and will be held in accordance of the Data Protection Act. It is for communication purposes only for Trinity, Greyabbey and will help the session and committee with the weekly running of the church. Thank you very much for taking the time and if you have any queries please get in touch with Tony Craig on 07985 415126. To access the page please click here
UPCOMING EVENTS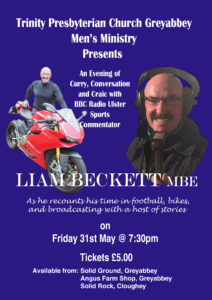 MEN'S MINISTRY
Trinity Greyabbey Men's Ministry Presents "An Evening of Curry & Burgers, Conversation and Craic with BBC Radio Ulster Sports Commentator LIAM BECKETT MBE as he recounts his time in football, bikes and broadcasting with a host of stories" on
Fri 31st May at 7.30pm
. Tickets £5.00 from Solid Ground, Solid Rock, Angus Farm Shop, Harold Campbell, Michael Allen, Tony Craig, Philip Allen or Brian Little.
FUSION has now finished for the summer break, see you in September!


TRINITY CRAFTERS will meet on Tues 28th May at 7.00pm in Solid Ground. All welcome, contact Agnes on 07719 877 138 for more details.

FATHERS DAY CHOIR All men interested in playing music and singing at our Father's Day Service (16th June) are asked to come to our rehearsals on Thursday's 30th May, 6th & 13th June at 8.00pm in Greyabbey.


PRELOVED BOOK SALE AND COFFEE MORNING: Sat 15 June at Trinity Greyabbey. Come along for books and bakes to raise money for YWCA Ireland Leadership Academy and Days for Girls!


TRINITY TOTS PLANNING MEETING You are ALL invited and more than welcome to attend the annual planning meeting on Mon 17th June at 7.30pm in Solid Ground (GR). Whether you've been to Trinity Tots in any capacity before or not we value all ideas for the 2019-20 season ahead. For further information please contact Joan Brown or Ruth Stewart.


K4C K4C aged children are invited to a k4C get-together on Thurs 20th June @ 6.30pm-8.00pm for fun and food, this time will also include a run through for the K4C Service and Prize Giving which will be held on Sun 23rd June during the morning service. Following this there will be a congregational picnic in the grounds of the Abbey, bring your own picnic and join in the fun and games.


BUILDING FOR THE FUTURE (BFTF) Annual Special Collection – Each year we have a one-off special collection that contributes towards the payment of our property loan and repair/maintenance of our facilities. We have scheduled this to take place during May and we ask that you prayerfully consider your contribution to God's work in this way. Contributions can be made using the green BFTF Special Collection envelope, (located behind the white Property envelopes) in your Free Will Offering pack. If possible, please return your contributions by TODAY. To God be the Glory.


JUST ONE with J. John at CS Lewis Square on Sun 2nd June from 4.00pm – 5.30pm. A unique opportunity to hear the life-changing message of Jesus. Guests include Ulster Rugby's Paul Marshall, Gold Medal Swimmer Bethany Firth and Singer/Songwriter Gary Simpson. For more details www.justonebelfast.com


CLOUGHEY TOTS It is hoped that a Parents and Toddlers group will run in the church commencing in the Autumn. If you would be interested in helping or could donate toys, crafts or children's musical instruments, please contact Michelle.


TEAR FUND WALK North Down area walk is at Crawfordsburn Country Park on Fri 31st May. Please keep date free and more details will follow. TEAR FUND are now having their events plastic free. If possible can walkers bring their own reusable cup, water will also be available and biodegradable cups. Also hot dogs etc as usual. I was at a meeting about walk and the other reps were talking about the good turnout from "Trinity"so make sure we keep it up! Walkers are welcome if you'd like to be involved but not able to walk full 5 km.


SING BELFAST at SSE Arena on Sat 15 June 2019 from 19.30pm – 22.00pm hosted by Keith and Kristyn Getty with the new Irish Choir and Orchestra. Tickets available at www.ticketmaster.ie


KESWICK AT PORTSTEWART from Sat 6th – Fri 12th July. Life Changing – Bible Teaching. Mornings: 11.00am, Evenings: 7.30pm. More details available from www.keswickportstewart.org.


STAMPS Please remember to keep any used stamps and place in the box provided in the vestibule. These are collected and the money raised goes to the Leprosy Mission. Thank you.


K4C Rota: May – GR
Junior: Josh, Johnny, Laura, Holly
Senior: Rebekah, Charon, Adam McC, Jamie
CL: Nicola Clint & Caroline McMaster

TIDES – Daily Emailed Devotional
In the constant cycle of life, it is important for the people of God today to maintain a rhythm of devotion. PCI have a resource for ordinary followers of Jesus with a regular pattern of
bible reading and prayer that will provoke lives of service and mission. If you would like to investigate this resource you can do so at
www.presbyterianireland.org/tides
CONNECT WITH US
Follow our social media outreach and stay connected with the latest updates, announcements and fellowship events.
COPYRIGHT NOTICE
The information on this site is the property of Trinity Greyabbey. No broadcasting or duplication of any sermons allowed without permission from Trinity Greyabbey.
CONTACT US
Trinity Presbyterian Church
Main Street, Greyabbey
County Down, BT22 2NE.
Minister Neil Stewart:
Mobile – 078 413 53790
Church Office – 028 427 88377
Manse – 028 427 88688