Our service of worship begins at 10:00am at Trinity, Cloughey and is followed by a service at Trinity, Greyabbey at 11:30am. RE:GEN meet prior to our worship service at 10:30am. We also meet occasionally at Trinity, Greyabbey at 6:30pm for worship. Our web page, The Week Ahead and social media pages will have information on upcoming evening services.
When you arrive at Trinity you will receive a warm welcome from our Welcome Team who will answer any questions you may have about the service or the Church facilities. They will also show you to a seat of your choice and be available during the service should you need assistance.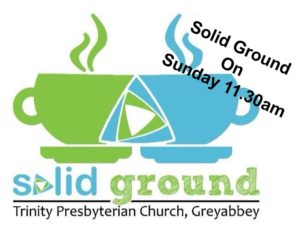 Beginning Sunday 6 May 2018, Solid Ground Greyabbey will be opened every Sunday from 11.30am to warmly welcome folks from our congregation, and wider community, who may find it difficult, for a variety of reasons, to sit through the main church service. This will offer the opportunity to watch and listen to the service, via television, in a smaller, relaxed setting with refreshments available. A number of congregational members will be on hand before, during and after the service to provide assistance or simply to have a chat. If you feel this facility would meet your needs please come along – you will be made very welcome; alternatively, if you feel it may meet the needs of a family member or friend, please let them know the details or perhaps bring them along with you. Please contact Elaine on 07718 203322 should you require any further details.
The Bible reminds us again and again that our worship of God isn't something that is to be solely 'private and personal'. Rather, our worship of God is also something that we are to draw encouragement from as we 'draw near to God' as His family.
We trust that our times of corporate worship on a Sunday are indeed enjoyable and encouraging and that, whatever age we are and whatever our relationship with God is like, we can connect with Him through the praise, prayers, offering, Bible reading and preaching.
Our service begins with a time of all age worship led by our Praise Musicians. The praise each week is largely, but not exclusively, contemporary in style.
Midway through our service we collect our tithes and offerings for the work of God's Kingdom in Greyabbey and around the World.
Our kids who are pre-school and primary school age move into the halls for their own age-appropriate teaching in either Crèche (Pre-school) or K4C (Kids for Christ; P1 – P7).
The second part of the service is largely devoted to teaching. We believe that the Bible is the inspired word of God and is our supreme rule of faith and life. The Bible should be read aloud and preached publicly so that we can be built up in our faith in God and made ready to face the challenges of everyday life.
The Bible contains "Good News" (Gospel). The story of Jesus Christ's birth, life, death, burial, resurrection and ascension reveals how God saves us from an eternity separated from Him, to the assurance that we will be with Him forever.
Following the service, everyone's invited to 'stay and mingle' over a cup of tea or coffee and biscuits in Solid Ground (Greyabbey), or Solid Rock (Cloughey).