ROBIN MARK CONCERT
Saturday 16th January 2016 at 7.30pm in Bangor Elim Complex. Tickets £15, available locally from the Solid Ground Cafe on Tuesdays 9am to 1pm and Sundays 12.15pm to 1 pm. We will be running a bus to the event and anyone wishing to travel this way, please add your name to the list in the vestibule. Click here for more info.
PRAYER MINISTRY COURSE
This is the basic course which provides training and practice in prayer ministry as offered as the close of services in many churches. The skills learnt and understanding gained are often found to be to be useful even for those who have no desire to join a prayer ministry team.
The practical course is spread across 6 weeks and is being held at. Movilla Presbyterian Church
Movilla Rd, Newtownards, BT23 8RQ, 05 Nov – 10 Dec, from 8pm – 10pm.
Suggested Donation: £30 (Made payable to the Kairos Trust).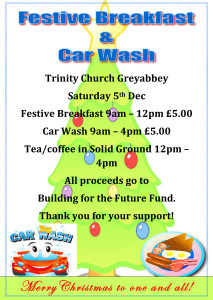 FESTIVE BREAKFAST AND CAR WASH
Come along and join us for a cooked breakfast at Trinity, then stay behind and get your car washed while having a cup of tea in
Solid Ground.
Bring family, friends and spend time
soaking up the festive atmosphere.
All proceeds are going to the Building For The Future Fund.
Timings for the day

Festive breakfast – 9am – 12pm
Tea/coffee in Solid Ground – 12pm – 4pm
Thank you for your support and hope to see you there.
CONNECT WITH US
Follow our social media outreach and stay connected with the latest updates, announcements and fellowship events.
The information on this site is the property of Trinity Greyabbey. No broadcasting or duplication of any sermons allowed without permission from Trinity Greyabbey.
CONTACT US
Trinity Presbyterian Church
Main Street, Greyabbey
County Down, BT22 2NE.
Minister Neil Stewart:
Mobile – 078 413 53790
Church Office – 028 427 88377
Manse – 028 427 88688