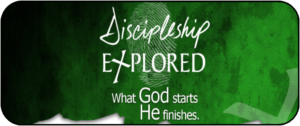 DISCIPLESHIP EXPLORED
Is designed to help you discover what it means to be a follower of Jesus Christ. The 8 week study takes you through Paul's letter to the Philippians. Studying this letter will help you answer questions such as
– How can I be sure I'm a Christian?
– What is life really about?
– How can I grow as a Christian?
– How can I enjoy being a Christian more?
Perhaps you have recently completed the Christianity Explored course and are at the beginning of your Christian journey wondering about the next step, or maybe you have been a Christian for a while. What ever stage you are at, Discipleship Explored will help you understand what is involved in following Christ today and encourage you to walk confidently in His footsteps.
If you are interested in understanding more about your relationship with Jesus then please sign up on the sheets in the vestibule and Welcome areas. If you have any questions just contact our minister Neil.
Dates for the course are Thursdays 7:30pm – 9:30pm in Solid Ground on the Sept 29th Oct 6th, 13th, 20th Nov 3rd, 10th, 17th, 24th.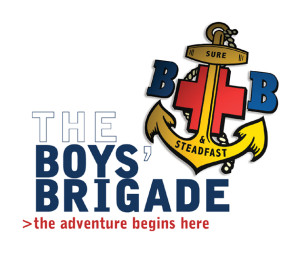 BB is back in September
6.30-8.00pm (JUNIORS) PRIMARY 5 – 7 .
Starting Tues 6th September
6.30-7.30pm (ANCHORS) PRIMARY 1 – 4
Starting Wed 7th September
8.00-9.30pm (COMPANY) YR 8+.
Starting Wed 14th September
Trinity Presbyterian Church Hall, Main Street, Greyabbey
** New and returning members will be made very welcome ** ** Previous attendance at BB is not necessary **
For further details please contact:
Lorraine (Anchors): 07729 957705
Elaine (Juniors): 07718 203322
Ronald (Company): 07743 489236

TIDES – Daily emailed devotional
In the constant cycle of life, it is important for the people of God today to maintain a rhythm of devotion. PCI have a resource for ordinary followers of Jesus with a regular pattern of
bible reading and prayer that will provoke lives of service and mission. If you would like to investigate this resource you can do so at
www.presbyterianireland.org/tides
CONNECT WITH US
Follow our social media outreach and stay connected with the latest updates, announcements and fellowship events.
The information on this site is the property of Trinity Greyabbey. No broadcasting or duplication of any sermons allowed without permission from Trinity Greyabbey.
CONTACT US
Trinity Presbyterian Church
Main Street, Greyabbey
County Down, BT22 2NE.
Minister Neil Stewart:
Mobile – 078 413 53790
Church Office – 028 427 88377
Manse – 028 427 88688