EXCITING NEWS
Trinity is advertising the following post:
The PDF Application Form requires Adobe Acrobat Reader and can be downloaded, printed and posted. The Word document requires Microsoft Word and can be downloaded, edited and emailed.
SOLID GROUND ON SUNDAYS
Beginning Sunday 6 May 2018, Solid Ground Greyabbey will be opened every Sunday from 11.30am to warmly welcome folks from our congregation, and wider community, who may find it difficult, for a variety of reasons, to sit through the main church service. This will offer the opportunity to watch and listen to the service, via television, in a smaller, relaxed setting with refreshments available. A number of congregational members will be on hand before, during and after the service to provide assistance or simply to have a chat. If you feel this facility would meet your needs please come along – you will be made very welcome; alternatively, if you feel it may meet the needs of a family member or friend, please let them know the details or perhaps bring them along with you. Please contact Elaine on 07718 203322 should you require any further details.

TRINITY MEMBERS INFORMATION SIGN-UP SHEET
We are in the process of updating our church records and would like for each family member of the church to take a few minutes to update or obtain information on them. All information is for church purposes only and will be held in accordance of the Data Protection Act. It is for communication purposes only for Trinity, Greyabbey and will help the session and committee with the weekly running of the church. Thank you very much for taking the time and if you have any queries please get in touch with Philip Warnock on 07764997980. To access the page please click here
UPCOMING EVENTS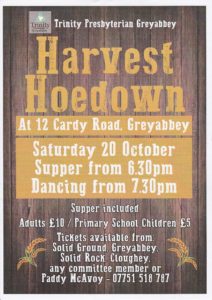 HARVEST HOEDOWN
Harvest supper and dance to be held at John Cranston's farm 12A Cardy Rd Greyabbey on Sat 20th of October from 6.30pm. Dancing 7.30pm onward. This promises to be a Family Fun night, suitable for all ages, with a good supper to start with and then a square dance led by Dorothy Crampton and live music. Pre-school free, Primary school children £5, everyone else £10. Tickets available from Solid Rock, Solid Ground, any committee member or ring Paddy 07751 518 787.
WinGS
All ladies are warmly invited to WinGS on Tues 16th October at 7.30pm in Finnegan Hall (CL) when the theme for the evening shall be "Beautiful Homes" with Daphne Stewart (Norwex representative). We look forward to having you join us for a blessed evening in Cloughey. If anyone has difficulty with transport, please write your name and contact number on the Transport sign-up sheet in the welcome areas. Cars will leave Greyabbey Church car park at 7.00pm.
WinGS
Sorry for the short notice but an invitation has just been received for the next Ards Link meeting being held in Groomsport Presbyterian Church on Wed 17th October at 2.30pm. Speaker is David Bruce on how God is working in Ireland today. Can you let Joan (07789 662 972) know
TODAY
if you are interested in attending.
GIRLS BRIGADE
The Girls Brigade are holding a coffee morning and craft fair on Sat 8th December. Anyone who would like a table please get in touch with Nicola Clint (07738 628 363) or Honor McCullough (07966 426 816). This is a fundraiser to raise money for the GB girls to enjoy all the celebrations for GB 125 year anniversary this year.
HARVEST THANKSGIVING COLLECTION
Our special harvest thanksgiving collection (Sunday 21st Oct) will be used for our Mission outreach in both our local communities and globally. This of course is a very practical way for us to say thank you to God for the 'Harvest' He has so graciously gifted us. Please use the green 'Harvest Special Collection' envelope located behind the white Property Fund envelopes in your packs. Any loose collection will also go towards this outreach.
SHOE BOX APPEAL
Its Samaritan's Purse Shoe Box Appeal time again. To help with this Norma has left covered boxes and various leaflets outside solid ground and Church Vestibule at Greyabbey and in Foyer at Cloughy for those who wish to fill them. Thanks to you, in 2017 we were able to
Donate 110 boxes and Collected £583.75
(inc Gift Aid) to help with shipping costs. Any donations of items for boxes can be left at Solid Ground or Solid Rock café, any monies can be given to Norma McComb or any of the Elders.
'…let us not love with words or speech but with actions and in truth.'
1 John 3:18
K4C
Up until November we will be foregoing our weekly collection in K4C and instead collecting towards the Shoebox appeal. Can anyone who has any
SPARE SHOE BOXES
please send them with your child to K4C? You can give them to a K4C leader, leave in the store room behind Solid Ground or the foyer of Cloughey.
FIELDS OF LIFE
are holding their Annual
'Carols by Candlelight'
on Fri 14 December at 7.30pm in the Assembly Buildings, Spires, Belfast. The Belfast Community Choir along with the Raise the Roof Kids Choir will contribute to the praise while Rev Steve Stockman will bring God's message.
Tickets:
Adults £10, Under 16 £5 are available from: info@fieldsoflife.org or by telephoning 028 9263 6200. Funds raised will help provide clean safe drinking water to communities in East Africa.
WELCOME TEAM
We would like a few more persons to join our Welcome Team here in Greyabbey. This is a very important ministry of our church and congregation . If you feel God is leading you to this role, please speak to Harold or any member of Session. Thank You.

TIDES – Daily Emailed Devotional
In the constant cycle of life, it is important for the people of God today to maintain a rhythm of devotion. PCI have a resource for ordinary followers of Jesus with a regular pattern of
bible reading and prayer that will provoke lives of service and mission. If you would like to investigate this resource you can do so at
www.presbyterianireland.org/tides
CONNECT WITH US
Follow our social media outreach and stay connected with the latest updates, announcements and fellowship events.
COPYRIGHT NOTICE
The information on this site is the property of Trinity Greyabbey. No broadcasting or duplication of any sermons allowed without permission from Trinity Greyabbey.
CONTACT US
Trinity Presbyterian Church
Main Street, Greyabbey
County Down, BT22 2NE.
Minister Neil Stewart:
Mobile – 078 413 53790
Church Office – 028 427 88377
Manse – 028 427 88688