EXCITING NEWS

TRINITY MEMBERS INFORMATION SIGN-UP SHEET
We are in the process of updating our church records and would like for each family member of the church to take a few minutes to update or obtain information on them. All information is for church purposes only and will be held in accordance of the Data Protection Act. It is for communication purposes only for Trinity, Greyabbey and will help the session and committee with the weekly running of the church. Thank you very much for taking the time and if you have any queries please get in touch with Philip Warnock on 07764997980. To access the page please click here
UPCOMING EVENTS
CAP MONEY COURSE
A CAP Money Course will be held in the Upper Room, Trinity Greyabbey over 3 nights, beginning on Thursday 2nd November 2017, Thursday 9th and Thursday 16th November. The courses will begin at 7:30 on each night and should run until 9:30.
The course is free and aims to teach people budgeting skills and a simple cash based system that really works. The course will help anyone to get control of their finances, so they can budget, save and prevent debt. Those attending do not hav
e to share any personal information but if they do it will remain confidential to the group.
For more information on the CAP Money system see capmoneycourse.org
If you are interested in attending please contact John McAvoy at jmcavoy1@sky.com or telephone 07443118505
CHRISTMAS TREE FESTIVAL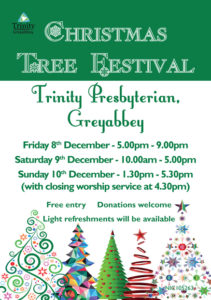 Over the past number of years Trinity Presbyterian Church in Greyabbey , the Community Association and the Primary School have joined forces to celebrate the start of the Christmas season, with a parade, incorporating a dramatisation of the Christmas story, the lighting of the Village Tree outside the Church and finishing with the School Christmas Fair.
The Village has been buzzing as crowds enjoyed this occasion, with the local businesses staying open to participate. This year we take this event a step further as Trinity present a CHRISTMAS TREE FESTIVAL, over the same weekend, Friday 8th Saturday 9th, and Sunday 10th.
The Christmas Trees around the Church and Halls will depict the Christmas story from the Angel first appearing to Mary to the birth of Christ.
No one is really sure when Fir trees were first used as Christmas trees, it seems to have begun about a thousand years ago in Northern Europe, but was used long before that in pagan festivals.
Boniface an English Missionary Monk, reputedly came across Pagans worshiping an oak tree, which he proceeded to cut down. The pagans expected him to be struck down dead, but he wasn't, and he then converted them to Christianity. Legend then has it that a Fir tree grew out of the fallen Oak, and this then became a symbol of Christianity. Being triangular in shape it represents the Trinity, and from there came the idea that these trees should be a symbol of Christ and new Life.
Please feel free to come and join in the fun, have a wander through our trees which have been decorated by our Church groups and local businesses, then have a cup of tea or coffee in the halls, and then explore all the shops and businesses throughout the Village.
Opening Times are :- Friday 8th Dec. 5pm to 9pm. Saturday 9th 10am to 5pm
Free entry, Donations Welcomed.
Sunday 10th 1-30 pm to 4-30pm. With a closing service from 4-30 to 5-00pm
Anyone wishing to purchase a tree can do so after the festival, some with decorations, and some without. Trees for sale will be marked For Sale during the Festival.
KING'S ABC BOXING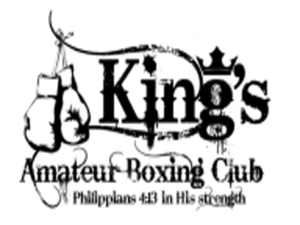 We are blessed to announce that Kings ABC will be running their next men's fitness session with us starting Monday 11th Sept. @ 7:30pm in our main hall.
Come along for some circuit training and boxing, improve your fitness, learn new skills and hear how God can change your life.
This is for all men 18 yrs and older, all fitness levels, all equipment is provided and it's completely FREE!!
Looking forward to seeing you and spread the word.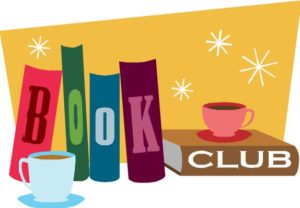 "LITERARY LOVED" BOOK CLUB"
Starting on 21st September we plan to meet on the 3rd Thursday of each month at 7.00pm to share our thoughts on what we are reading. If our information evening is anything to go by, there will be much laughter mingled with a cuppa and snacks! The club is open to all ladies of all ages and stages and our first book is Rachel Held-Evans' witty account of "A year of Biblical Womanhood". See Sarah Caughey or Ruth Stewart if you have difficulty obtaining a copy of this book as we have a few copies available to circulate.

TIDES – Daily Emailed Devotional
In the constant cycle of life, it is important for the people of God today to maintain a rhythm of devotion. PCI have a resource for ordinary followers of Jesus with a regular pattern of
bible reading and prayer that will provoke lives of service and mission. If you would like to investigate this resource you can do so at
www.presbyterianireland.org/tides
CONNECT WITH US
Follow our social media outreach and stay connected with the latest updates, announcements and fellowship events.
The information on this site is the property of Trinity Greyabbey. No broadcasting or duplication of any sermons allowed without permission from Trinity Greyabbey.
CONTACT US
Trinity Presbyterian Church
Main Street, Greyabbey
County Down, BT22 2NE.
Minister Neil Stewart:
Mobile – 078 413 53790
Church Office – 028 427 88377
Manse – 028 427 88688