EXCITING NEWS

TRINITY MEMBERS INFORMATION SIGN-UP SHEET
We are in the process of updating our church records and would like for each family member of the church to take a few minutes to update or obtain information on them. All information is for church purposes only and will be held in accordance of the Data Protection Act. It is for communication purposes only for Trinity, Greyabbey and will help the session and committee with the weekly running of the church. Thank you very much for taking the time and if you have any queries please get in touch with Philip Warnock on 07764997980. To access the page please click here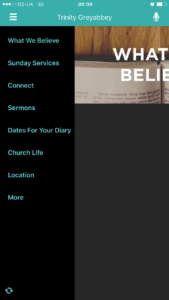 TRINITY GREYABBEY HAVE AN APP!
Download our app to listen again to our services, see whats happening in the week ahead, find out more about us and read the bible all within this app! It is only a
vailable for apple and android based systems so visit Apple Store and Google Play to get downloading.
UPCOMING EVENTS
CHRISTIANITY EXPLORED COURSE
A Christianity Explored course will run for seven weeks from Monday 27 February to Monday 10 April 2017. This DVD-based course aims to help you consider the big questions of life. It will be held in Trinity Presbyterian Church Hall, Greyabbey from 7.45pm until 9.30pm. Refreshments will be available throughout the evening. The course is open to everyone, even if you cannot attend every week.
For more information, contact Diane McCracken 07921 854 880.
DAYS FOR GIRLS
Sat 6th May 2017 am to lunchtime. Attention all ladies, women and girls - following on from September 2016 Women's Fellowship event when we heard about the "Days for Girls" project, we will be having a morning workshop to make up the packs, have fun and fellowship (and of course food!). You do not need to be able to sew or use a sewing machine to attend - there are plenty of tasks for everyone to be involved in.
More information to follow in the next weeks. Contact Michele Berry (07808 137 622) and/or Agnes McCartney (07719 877 138) for more information.

TIDES - Daily Emailed Devotional
In the constant cycle of life, it is important for the people of God today to maintain a rhythm of devotion. PCI have a resource for ordinary followers of Jesus with a regular pattern of
bible reading and prayer that will provoke lives of service and mission. If you would like to investigate this resource you can do so at
www.presbyterianireland.org/tides
CONNECT WITH US
Follow our social media outreach and stay connected with the latest updates, announcements and fellowship events.
The information on this site is the property of Trinity Greyabbey. No broadcasting or duplication of any sermons allowed without permission from Trinity Greyabbey.
CONTACT US
Trinity Presbyterian Church
Main Street, Greyabbey
County Down, BT22 2NE.
Minister Neil Stewart:
Mobile – 078 413 53790
Church Office – 028 427 88377
Manse – 028 427 88688