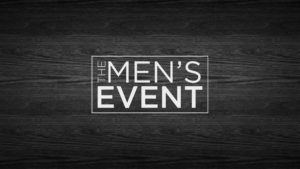 MEN'S EVENT
On Fri 27th Jan we plan to take a trip to Eddie Irvine Sports in Bangor where we will spend a couple of hours on the racing simulators. Cost £15 Time 7.30pm. Put the date in your diary and watch for sign-up sheet in the new year.
3 STORY BIBLE STUDY
Would you like to learn more about how to share what God is doing in your life? If you would, then please come along to the "3 Story" Bible study. This study will help you to bring 3 stories together i.e. God's, yours and someone who does not know God's Story. IN: Upper Room ON: Thursdays 19th & 26th January & 2nd Feb AT: 7.30pm. Please sign up in the vestibule or Solid Ground entrance.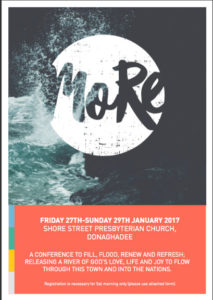 'MORE' CONFERENCE @ Shore Street Presbyterian, Donaghdee
27TH – 29TH JANUARY 2017 WE WOULD LOVE YOU TO JOIN US!
This is a conference to FILL, FLOOD, RENEW and REFRESH;
Releasing a river of God's MORE love, life and joy to flow through this town and into the nations. We start on Friday 27th with an evening of worship and teaching as we pursue God's Presence and hear God's Word. Our Key Speaker is Pastor Phil Emerson and we will be led in worship by Ryan Griffith from Worship Central Ireland. Registration is needed for Saturday morning as there are four workshops from which you can choose two. £5 registration required. Saturday evening's event starts at 7.30pm where Jordan McGrath will be leading worship and our speaker is Scott McNamara. The conference closes on Sunday evening @ 7pm with Pastor Phil Emerson speaking and Ryan Griffith leading us in worship. For more details please email more@shorestreet.org or visit https://www.facebook.com/ShoreStPresbyterian/

TIDES - Daily Emailed Devotional
In the constant cycle of life, it is important for the people of God today to maintain a rhythm of devotion. PCI have a resource for ordinary followers of Jesus with a regular pattern of
bible reading and prayer that will provoke lives of service and mission. If you would like to investigate this resource you can do so at
www.presbyterianireland.org/tides
CONNECT WITH US
Follow our social media outreach and stay connected with the latest updates, announcements and fellowship events.
The information on this site is the property of Trinity Greyabbey. No broadcasting or duplication of any sermons allowed without permission from Trinity Greyabbey.
CONTACT US
Trinity Presbyterian Church
Main Street, Greyabbey
County Down, BT22 2NE.
Minister Neil Stewart:
Mobile – 078 413 53790
Church Office – 028 427 88377
Manse – 028 427 88688