EXCITING NEWS

TRINITY MEMBERS INFORMATION SIGN-UP SHEET
We are in the process of updating our church records and would like for each family member of the church to take a few minutes to update or obtain information on them. All information is for church purposes only and will be held in accordance of the Data Protection Act. It is for communication purposes only for Trinity, Greyabbey and will help the session and committee with the weekly running of the church. Thank you very much for taking the time and if you have any queries please get in touch with Philip Warnock on 07764997980. To access the page please click here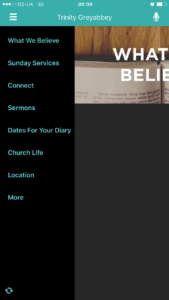 TRINITY GREYABBEY HAVE AN APP!
Download our app to listen again to our services, see whats happening in the week ahead, find out more about us and read the bible all within this app! It is only a
vailable for apple and android based systems so visit Apple Store and Google Play to get downloading.
UPCOMING EVENTS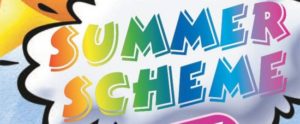 EA SUMMER SCHEME
Is on Wednesday 5th July from 2:30pm to 8:30pm in the church hall. Thursday 6th July and Friday 7th July is from 2pm to 5pm in the church hall. Point of contact will be June Kinsley-Smith.
NOMAD ACADEMY
Is run by Youth For Christ Northern Ireland sports ministry team called Nomad. This years academy will be held at Greyabbey, in partnership with Trinity Presbyterian Church.
Dates:- Monday 17th July - Friday 21st July 2017
Time:- 2 - 4 pm (Registration opens from 1:45 pm each day)
Location:- Greyabbey football pitch
Age:- Going into Primary 4 upwards
Cost:- Free
Registration forms need to be completed for Monday 17th July 2017 (Registration forms can be completed on the day by a Parent / Guardian)
HOLIDAY BIBLE CLUB "SUPERHERO ACADEMY"
Is being held the week off Monday 7th - Friday 11th August from 6:30pm - 8:30pm in the halls in Trinity Presbyterian Church. It is for ages 4 - 11 (going into P1 - leaving P7) and the point of contact is Rebekah White on 07871535428. Come along and discover who the real superhero is!
VINTAGE RALLY
Volunteers are required to help at the vintage Rally on 7th-12th August, (which is a fundraiser for our Church). Any help would be greatly appreciated either in the evenings the week before to set up, or on the Friday and Saturday to help run the event. As well as our own Church benefiting, any profits made at the rally go to local charities. To date the Club has given £3,500.00 to Belfast City mission to help their project to build a home for those suffering with Dementia at the site outside Millisle, as well as supporting other Charities. Please talk to Paddy.

TIDES - Daily Emailed Devotional
In the constant cycle of life, it is important for the people of God today to maintain a rhythm of devotion. PCI have a resource for ordinary followers of Jesus with a regular pattern of
bible reading and prayer that will provoke lives of service and mission. If you would like to investigate this resource you can do so at
www.presbyterianireland.org/tides
CONNECT WITH US
Follow our social media outreach and stay connected with the latest updates, announcements and fellowship events.
The information on this site is the property of Trinity Greyabbey. No broadcasting or duplication of any sermons allowed without permission from Trinity Greyabbey.
CONTACT US
Trinity Presbyterian Church
Main Street, Greyabbey
County Down, BT22 2NE.
Minister Neil Stewart:
Mobile – 078 413 53790
Church Office – 028 427 88377
Manse – 028 427 88688